THAI TREASURES FROM THE SEA FEATURED
Fresh treasures from the seas and rivers of Thailand are featured at a special menu available only during November and December 2022 at The House of Smooth Curry.
Seafood Treasures is an à la carte menu prepared in classic Thai style with fruits, herbs and spices by Chef Montri and his team and served for lunch and dinner.
Phuket lobster is on the menu, and grilled with pomelo and traditional condiments of lime, chili, ginger, shallot, shredded dried coconut and peanuts, with a savory dipping sauce. Squid is steamed with lime sauce and topped with coriander leaves. Surat Thani oysters are served with leaf salad, lemongrass, fried onion and chili, while river prawns are grilled with a spicy salak salad and lime dressing.
The House of Smooth Curry has been awarded Travelers' Choice 2022 in the TripAdvisor awards.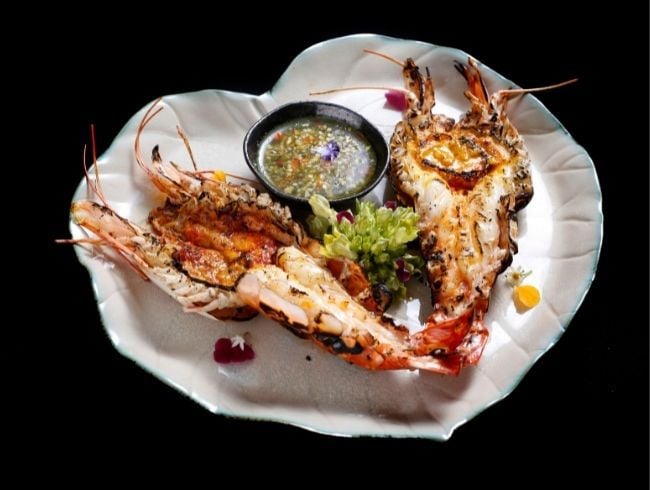 AUTHENTIC THAI TASTE
The House of Smooth Curry is presenting indigenous and rare-to-find age-old recipes of Thai cuisine. Experience the uniqueness of Thai creations with the layered flavors you can't imagine until you taste it.
Grilled Ayudhya river prawn THB 1,500
Earn up to 884 points | Redeem from 9,028 points
Gaeng poo bai cha ploo THB 630
Earn up to 354 points | Redeem from 3,792 points
Stir-fried crab with curry THB 1,500
Earn up to 1,500 points | Redeem from 10,834 points
The House of Smooth Curry is open daily for:
Lunch 11.30 A.M. - 02.30 P.M.
Dinner 05.30 P.M. - 10.00 P.M.
Athenee Club, Marriott Bonvoy and Club Marriott benefits apply.
All prices are in Thai Baht, subject to 10% service charge and government tax.